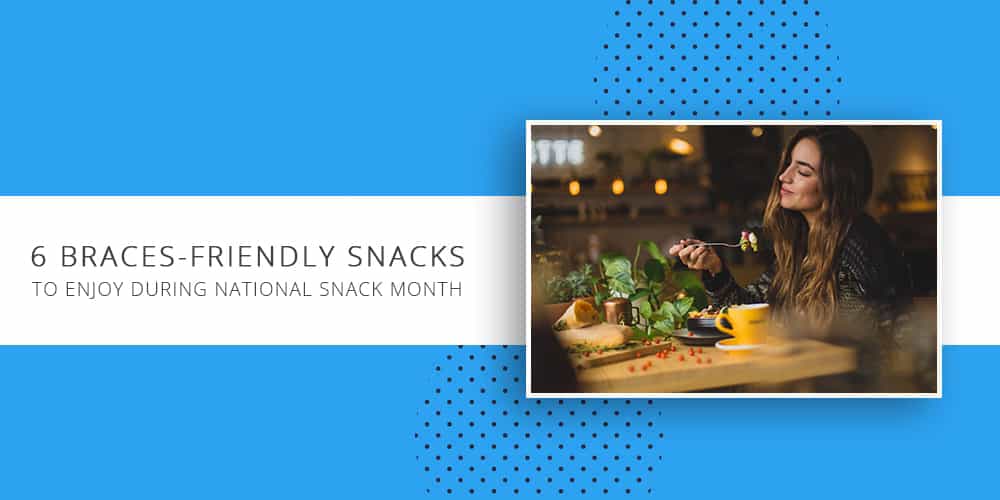 Though National Snack Month is the perfect time for people to enjoy all their favorite foods, you may be feeling a bit miffed if you have braces. Sure, they'll help straighten your teeth and improve your smile, but they also keep you from enjoying so many of your favorite snacks. However, there's no need to give up on enjoying the month! There are plenty of delicious, brace-friendly snacks you can choose from without a visit to the local orthodontist! To get you started, we've assembled a list of our six favorites that you're sure to enjoy.
Why Snacking With Braces Can be Difficult
So, what is it that makes snacking with braces so difficult? The wires and brackets, though durable, can be damaged by certain foods. In addition, certain foods, such as those with shells or husks, can become stuck in between, or even behind the brackets.
Do you know that annoying feeling of having something stuck in your teeth? Now imagine that same feeling with the addition that it won't leave, no matter how much brushing you do. Chances are, you'll have to go to the orthodontist for deep cleaning. No matter how insignificant it may seem, listen to your ortho's advice!
Schedule a
Complimentary Consultation
State-of-the-Art Offices
Comfortable Atmosphere During Treatments
Personable & Extremely Knowledgeable Staff
Conveniently Located in Bend & Redmond
Snacks to Avoid When You Have Braces
So you know why you should avoid certain foods, but what do you need to look out for? As mentioned earlier, foods with shells or husks, such as popcorn, corn on the cob, or nuts are a no-go. In addition, nuts can be harmful in more ways than one.
Aside from their potential to lodge themselves in the brackets, certain nuts are hard enough to break brackets or pop out wires. Other tough foods to avoid include apples, raw vegetables, and beef jerky. As for other textures, overly sticky or chewy foods can have a similar effect, so it's best to stay away from sugary gum, chewy candy, and licorice.
Snacks We Recommend with Braces
Soft bread. (No bagels, baguettes, etc.)
Cooked pasta.
Boneless meat.
Creamy peanut butter.
Cheese.
Bananas.
If you're looking for a Bend or Redmond, Oregon orthodontist we at Sullivan Orthodontics are here to help! Feel free to schedule an appointment today, and know that you're entrusting your smile to the best!