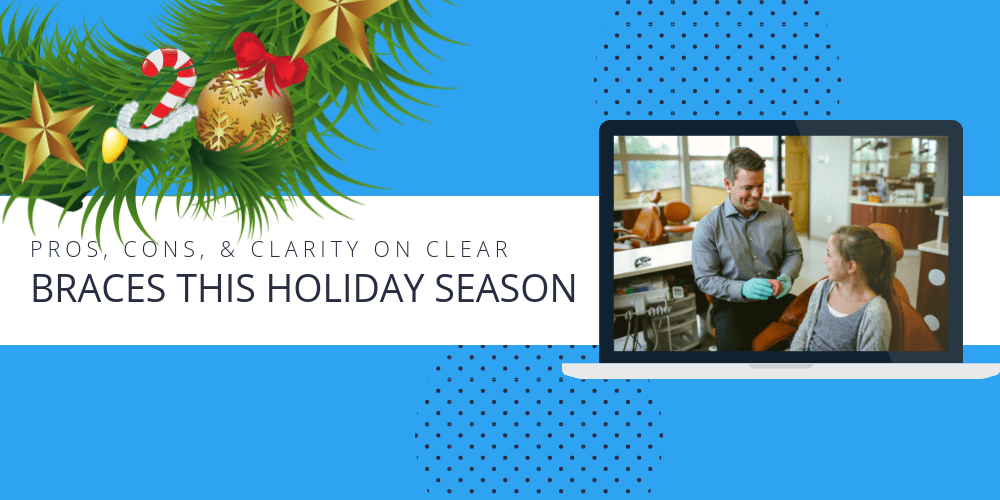 Pros, Cons, & Clarity on Clear Braces this Holiday Season
Have a smile on your mind? Whether it is yours or a loved ones', each & every person deserves a smile that they love. For some, this smile doesn't come without a bit of effort & orthodontics. With that said, brackets & traditional braces have held many back from taking the leap into smile happiness due to the reflective attention that inherently come with… That is where clear braces.
What are Clear Braces?
Clear braces are a cosmetic alternative to metal braces that blend in better with your teeth to make a lessened appearance of orthodontics during treatment… Clear braces come in two forms, one being an aligner and the other being closer to traditional braces. Both options use the latest in materials for a effective and fast smile journey.
Types of Clear Braces
There are two main types of clear braces, the well known, Invisalign System & the Damon Clear 2 which is a ceramic brace option shown above. Ceramic braces act just like tradition braces & are in fact the same size as well as shape as metal braces. However these brackets are tooth-colored or clear to ease visibility. Meanwhile, the Invisalign system utilizes the aligner method to gently mold your teeth in the smile you're looking for. Be forewarned, although they are the least noticeable, using aligners generally takes a bit longer than the traditional bracket & brace.
Come in both permanent & removable options
Nearly invisible with the same amazing results
Equal or less treatment time than traditional braces
Aligners aren't always the an effective treatment for certain smiles
Aligners allow for 'time off'
With a better understanding of clear braces, Sullivan Orthodontics is pleased to offer the two best clear brace systems available – the Invisalign method and Damon Clear 2 Braces. Combining these systems with Dr. Sullivan's aesthetic approach to orthodontic treatment allows you to achieve the wide, beautiful smile of your dreams in less time and less appointments.
Thank you taking the time to become a better version of you! It's no secret that overall health has everything to do with your mouth, what's in it, and how you take care of it. If you have any questions, concerns, or would like to schedule your complimentary consultation, please call (541) 749-2098.