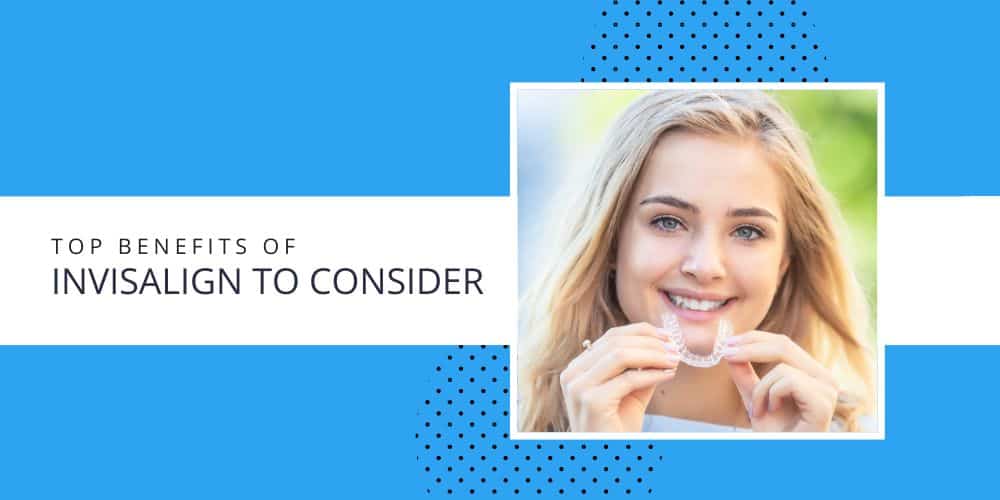 Invisalign is a popular orthodontic treatment option that uses a series of clear, plastic aligners to move teeth into their desired positions. The aligners are virtually invisible and can be removed for eating and easy cleaning. Invisalign has become increasingly popular among adults and teens looking for an aesthetically pleasing way to achieve a beautiful smile.
In addition to being virtually invisible, Invisalign also offers a number of advantages over traditional metal braces. Here are the top five benefits of Invisalign:
Invisalign is quickly becoming a popular choice for straightening teeth. Instead of bulky metal braces, Invisalign uses a series of clear, removable aligners to gradually move teeth into their desired position. Invisalign is virtually invisible, so nobody can tell you're wearing it. But Invisalign offers more than just aesthetics. Here are the top five benefits of Invisalign:
1. Comfort
Invisalign trays are made of clear, BPA-free plastic and fit snugly over your teeth, making them much more comfortable than metal braces. The smooth plastic does not contain any sharp edges that could cause discomfort, which makes it ideal for those who are sensitive to metal braces.
2. Convenience
Convenience is one of the top 10 benefits of Invisalign. Unlike traditional metal braces, Invisalign aligners can be removed for eating, drinking, brushing and flossing. This means that you can enjoy your favorite foods without having to worry about damaging your braces.
Additionally, Invisalign aligners can be removed for important events such as weddings, job interviews, and special occasions. This means that you can feel confident and look your best for important occasions. Invisalign aligners can also be removed for short periods of time for cleaning or for taking a break from treatment. This makes it easier to maintain good oral hygiene and to take a break from treatment if needed.
3. Discreet
One of the greatest benefits of Invisalign is that it is virtually invisible to the outside world. The clear trays blend in with your teeth, making it difficult for anyone to notice that you are wearing them. This is great for those who want to improve their smile without drawing attention to themselves.
4. Faster Treatment
Another benefit of Invisalign is that it offers a faster treatment time compared to traditional metal braces. This is because the aligners are made of a clear plastic material that can be easily adjusted to fit your teeth. Unlike traditional braces, which require frequent trips to the orthodontist for adjustments, Invisalign aligners can be adjusted by the patient themselves. This eliminates the need for frequent appointments and can shave weeks off of the overall treatment time. In addition, since the aligners are removable, brushing and flossing are much easier and less time-consuming than with traditional braces. This makes the overall treatment time more efficient and can help reduce the amount of time needed for treatment.
5. Cost-Effectiveness
Invisalign is often much less expensive than traditional braces, making it a great choice for those who are on a budget. In fact, many insurance companies offer discounts on Invisalign treatments, making them even more affordable. Additionally, Invisalign treatments are typically shorter in duration than traditional braces, which also helps to reduce the overall cost of the treatment. For those who are looking to save money on their orthodontic treatment, Invisalign is definitely worth considering.
Invisalign is a great option for people looking for a discreet way to straighten their teeth. It offers many advantages over traditional metal braces, including comfort, convenience, safety, faster treatment, and cost-effectiveness. If you're considering Invisalign, talk to your local Orthodontist in Redmond or Bend, Oregon, to see if it's the right option for you.
At Sullivan Orthodontics, we provide a range of orthodontic services for both children and adults. The treatments that our Bend and Redmond, Oregon, orthodontist offers are designed to give you the best results using the latest technology and techniques. Ask us about Invisalign today!
Schedule a
Complimentary Consultation
State-of-the-Art Offices
Comfortable Atmosphere During Treatments
Personable & Extremely Knowledgeable Staff
Conveniently Located in Bend & Redmond
Are you thinking of getting braces in Redmond or Bend Oregon? Then look no further than Sullivan Orthodontics! We offer a variety of braces options for our patients. From traditional braces to Invisalign, and Damon braces, we've got you covered. Our knowledgeable and friendly staff will ensure that you understand every step of the process and answer any questions you may have. Let us help you achieve the smile you've always wanted! Schedule an appointment with us today!