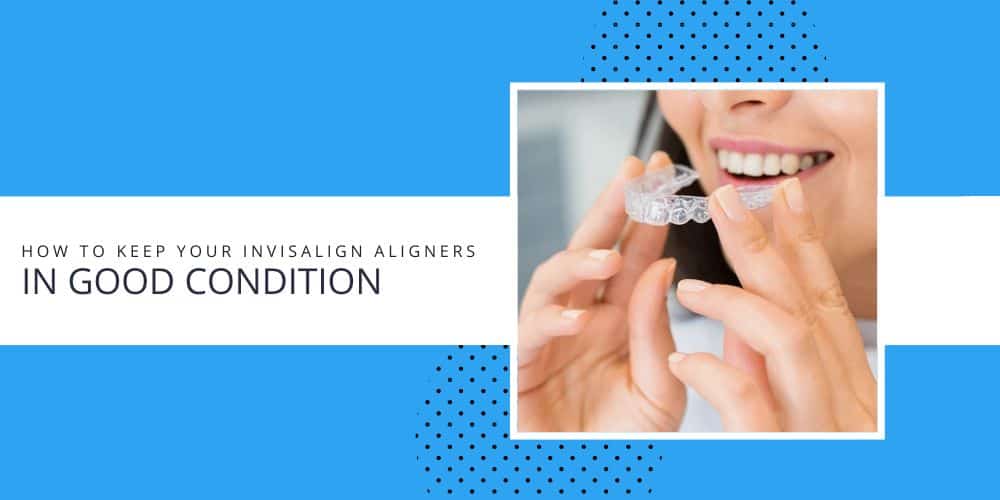 Invisalign aligners are a great alternative to traditional braces, offering a much more discreet, convenient, and comfortable way to straighten your teeth. However, like any other type of dental appliance, regular maintenance and cleaning are necessary to keep your Invisalign aligners in good condition. In this article, we will discuss some of the best practices for keeping your Invisalign aligners in good condition so that you can get the most out of your Invisalign treatment.
Regularly Rinse Your Aligners
Rinsing your Invisalign aligners regularly is an important part of keeping them in good condition. This will help to remove bacteria and food particles that can build up on the aligners and cause them to become discolored or develop an unpleasant odor. It is important to rinse your aligners with lukewarm water after every meal or snack. This will help to keep them clean and make sure that your mouth is healthy.
Avoid Using Abrasive Cleaning Materials
Abrasive materials can cause scratches on the aligners, which can make them less effective and even damage the aligners. Additionally, abrasive materials can create microscopic grooves which can trap bacteria and debris, leading to a less effective cleaning process. Therefore, it is best to avoid using abrasive materials such as scouring pads or other rough materials when cleaning your Invisalign aligners.
Instead, it is best to use a gentle cleaning solution such as a mild dishwashing liquid and warm water. This will help to remove any plaque or debris that may have built up on the aligners without causing any damage. Additionally, it is important to brush the aligners gently with a soft-bristled toothbrush and make sure to rinse them thoroughly before storing them. By avoiding abrasive materials and taking these steps to care for your Invisalign aligners, you can help ensure they remain in good condition and work effectively.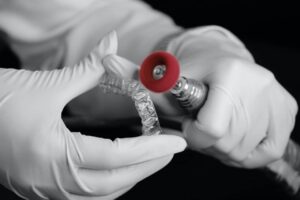 Properly Store Your Aligners When Not in Use
Properly storing your aligners when not in use is an important part of taking care of them and making sure they remain in good condition. It is recommended that you store your aligners in their official Invisalign case when not in use. This case is designed to keep your aligners safe and protect them from damage, dust, and other environmental hazards. 
You can also store your aligners in a clean, dry place such as a drawer or a box. Make sure to avoid leaving them in a humid, wet environment, as this could cause them to warp or discolor. Additionally, make sure to keep them away from pets and children to prevent accidental damage.
Remove Your Aligners When Eating
It is important to remove your Invisalign aligners when you eat. Eating with your aligners can cause food particles to get stuck in the aligners, leading to bacteria buildup. This bacteria buildup can cause bad breath, discoloration of the aligners, and gum irritation. In some cases, it can also cause an infection in the mouth. Removing your aligners when you eat not only keeps your aligners clean but also prevents any potential health risks.
Final Thoughts
Keeping your Invisalign aligners in good condition is critical to ensure that you get the best results from your Invisalign treatment. Proper cleaning and storage are key to making sure your aligners stay in good shape. Make sure to rinse and clean your aligners with a soft toothbrush and a non-abrasive cleaner. Store your aligners in their case when you are not wearing them, and avoid wearing them when eating. Following these simple steps will help you keep your aligners in perfect condition, so you can achieve the perfect smile you've been dreaming of.
Get Invisalign in Redmond, Oregon, with the help of Sullivan Orthodontics. Our practice utilizes the most state-of-the-art technology in orthodontics to ensure our patients receive the highest level of comfort and care. Our approach to treatment is patient-driven and dedicated to enhancing each patient's unique facial features. Schedule a complimentary consultation now!
Schedule a
Complimentary Consultation
State-of-the-Art Offices
Comfortable Atmosphere During Treatments
Personable & Extremely Knowledgeable Staff
Conveniently Located in Bend & Redmond
Are you thinking of getting braces in Redmond or Bend Oregon? Then look no further than Sullivan Orthodontics! We offer a variety of braces options for our patients. From traditional braces to Invisalign, and Damon braces, we've got you covered. Our knowledgeable and friendly staff will ensure that you understand every step of the process and answer any questions you may have. Let us help you achieve the smile you've always wanted! Schedule an appointment with us today!